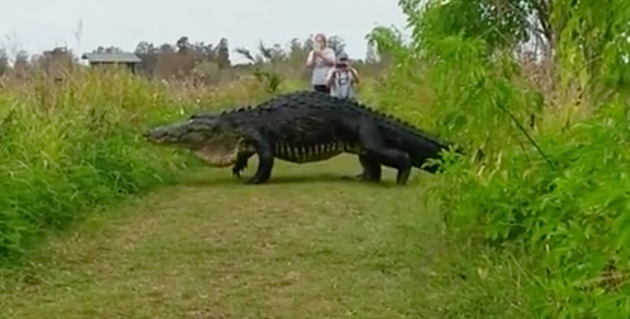 According to Huffington Post,
A massive alligator, easily as long as a minivan, was caught on video crossing paths with nature enthusiasts in central Florida on Sunday, in a scene that was described as "very exciting" by one brave eyewitness.
"I am out there a lot taking pictures and walking," she said. "The gators cross often and I saw this one coming so I wasn't scared, just gave him space. They just want to cross from one marsh to the other."
It took about a half-minute for the Goliath of a gator to completely cross what appears to be an 8- to 10-foot-wide path within the 1,267-acre preserve. In the background, several other people are seen gawking with cameras in hand.
Sources:
Huffington Post